The Rave Eagles Club Seating Chart
Although the Eagles Ballroom does have seating available, this main room is the perfect place to enjoy a concert in a standing setting. With it's 25,000 square foot floor available to fill up, you can grab your friends and spent the night watching an incredible performance whilst enjoying the space around you.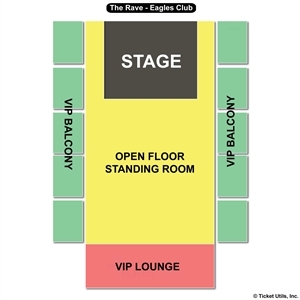 Being a part of a crowd on this sheer scale of 1,500 fellow fans, is an out of this world experience, here you will feel like you're at home.
If you haven't been before then it's time to see what's on and catch all of the biggest touring acts in this beautifully lit concert building!
World-famous artists that have taken to it's stage have included; Alice In Chains, All Time Low, Big Sean, Bruno Mars, Coldplay, Dierks Bentley, Disturbed, Ed Sheeran, Fall Out Boy, Five Finger Death Punch, Florence + The Machine, Florida-Georgia Line, J. Cole, Slayer, The Pixies… the list goes on.